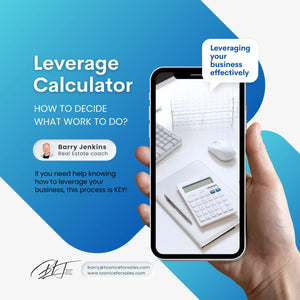 Too Nice for Sales Shop
One Pager: Leverage Calculator: How to Decide What Work to Do?
Regular price
$19.00
Sale price
$79.00
Unit price
per
In the last 10 years, I've had to learn that you have to "let go to grow".
Discover the ultimate solution for real estate agents looking to supercharge their productivity. This one-pager leverage calculator resource for real estate agent is your secret to success.
Leverage Calculator for Real Estate Agents Details:
Learn to prioritize tasks based on your desired hourly rate of pay, ensuring every minute counts.
Whether you're overwhelmed with admin work or aiming for business growth, this resource is your key to leveraging your business effectively by learning how to calculate the pay rate and what work to do.
If you need help knowing how to leverage your business, this process is KEY!
---